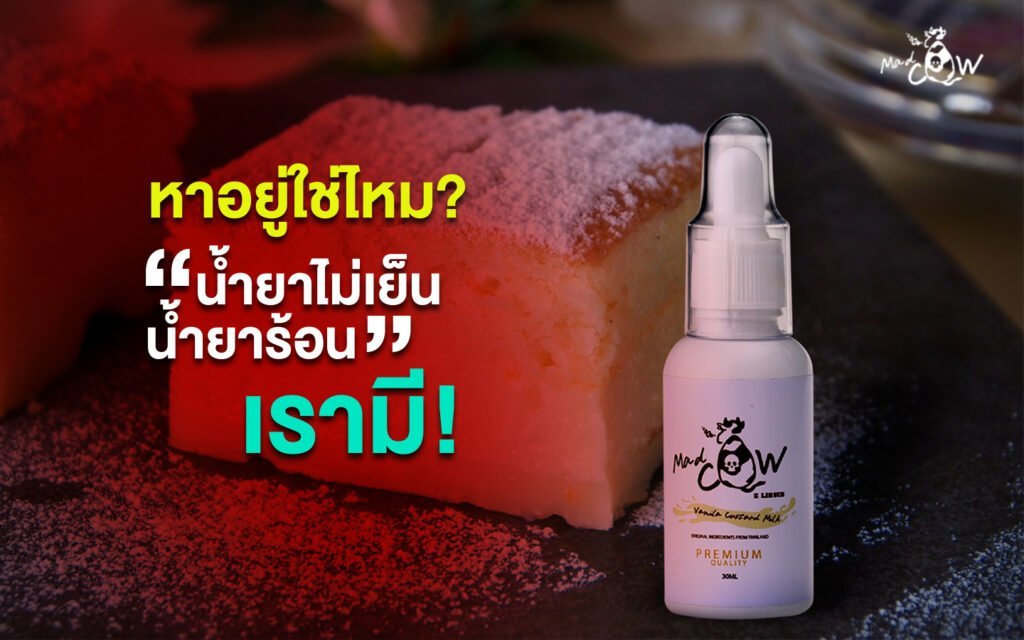 E-liquid In our Thai market, most of them are cold liquids such as fruits such as grapes and mangoes, which are popular at the moment, but there are some people who do not like the cooling of e-liquids at all. And E-liquid not cold is quite rare and very rarely available. In our Thai market.
E-cigarette liquid is not cool Also known as hot liquid , it is a liquid that does not contain cooling substances in the e-cigarette liquid. Therefore causing the liquid to not be cold. Most of the time, there isn't much of a fruity scent. Most of the time, it's usually dessert or tobacco because the design of each scent is different and some packets of dessert liquid will have coolness mixed in with it. to match the concept of the name and scent of the liquid as well
Hot liquid or e-cigarette liquid is not cold. It usually matches the concept of cigarette liquid. More than just tobacco, because of that tobacco liquid. There is no need for the cooling of the liquid at all. Because the flavor and dimension of the solution will be completely lost.
In the veteran electronic cigarette industry that consumes the dimension of that potion The refrigerant is a serious destroyer of the layer of the solution. This will completely erase the dimension of the solution. Therefore, the refrigerant It is usually in the form of a fruit liquid. that has only one scent Because of the fruit juice There is no need for the tactics of Dimensional Potions.
If you are a smoker at Advance who uses e-cigarettes at a high level. Not wanting the coolant of the solution is not uncommon. And there are quite a few in this group. Therefore, Madcow Eliquid answers the needs of smokers from this group the most.
Get to know Cooling substances (refrigerants)
First of all, before getting into the main content or looking for e-cigarette liquid, not cold, hot liquid, take it easy. Let's get to know Cooling substances, refrigerants. that is contained in e-cigarette liquid before It's a little bit of knowledge. that Bang admin wants to give
There are many types of cooling refrigerants. Let's take a look at each of them one by one. How does each substance smell and cool the solution?
Menthol : or meltol known as The name may be familiar to products like candy, it has the flavor of meltol candy, a substance found in some e-liquids, an ingredient intended to give e-liquids a cool and refreshing taste when pumped into the respiratory system. Menthol serves to provide a cool sensation on the tongue and other functions of the mouth, but empty Menthol is tasteless, but it has a meltal smell and gives it a very high coolness. When mixed with sweetener, it has a menthol candy flavor, and this flavor is quite compatible with E-liquid fruit lines.
Peppermint : or mint leaves, is an ingredient found in some e-cigarette liquids. It is a substance with a cool aroma and taste. Peppermint is often used in e-cigarette liquids to enhance the taste and create a cool, refreshing feeling in the mouth while smoking e-cigarettes. Peppermint helps to make the atmosphere while smoking e-cigarettes look more lively and increases. Coldness in the respiratory system Mint leaves, if you want to know what the smell and taste are like, think of chewing gum. My Mint smells good when you say it. It's the same thing.
Eucalyptus : or eucalyptus It is a substance that may be found in some e-cigarette liquids. It is a substance obtained by extracting from the leaves of the eucalyptus tree. It has a strong aroma and creates a cool, refreshing feeling when inhaled. Eucalyptus in e-cigarette liquids may aim to enhance the flavor and create a cool and refreshing smoking experience. However, because each person has different sensitivities to the ingredients, Some people may have allergies or irritations to Eucalyptus.
Camphor : or camphor, is a substance that should not appear in e-cigarette liquids. That has another kind of coldness. But it is not popular in mixing e-cigarette liquids. This is because there is a health risk when it is pumped into the respiratory system. Smoking cigarettes containing Camphor can cause irritation or headaches. and can cause serious effects on the respiratory system and internal organs of the body which may be life-threatening
If you are someone who does not like the smell and coolness of the above mentioned substances. You've come to the right place. Our Madcow Eliquid is mostly a hot liquid, with a full scent and dimension of the liquid. Let you get lost in the great smoking experience.
Recommended 9 E-liquid not cool Hot Water by Madcow Eliquid
And it's time for sales. According to the topic above If you are looking for e-cigarette liquid, not cold or hot liquid, we definitely have it for you. Guaranteed you won't be disappointed. Let's take a look at what hot liquids Madcow has for readers to decide to try and buy with us.
Cowboy, classic cigar scent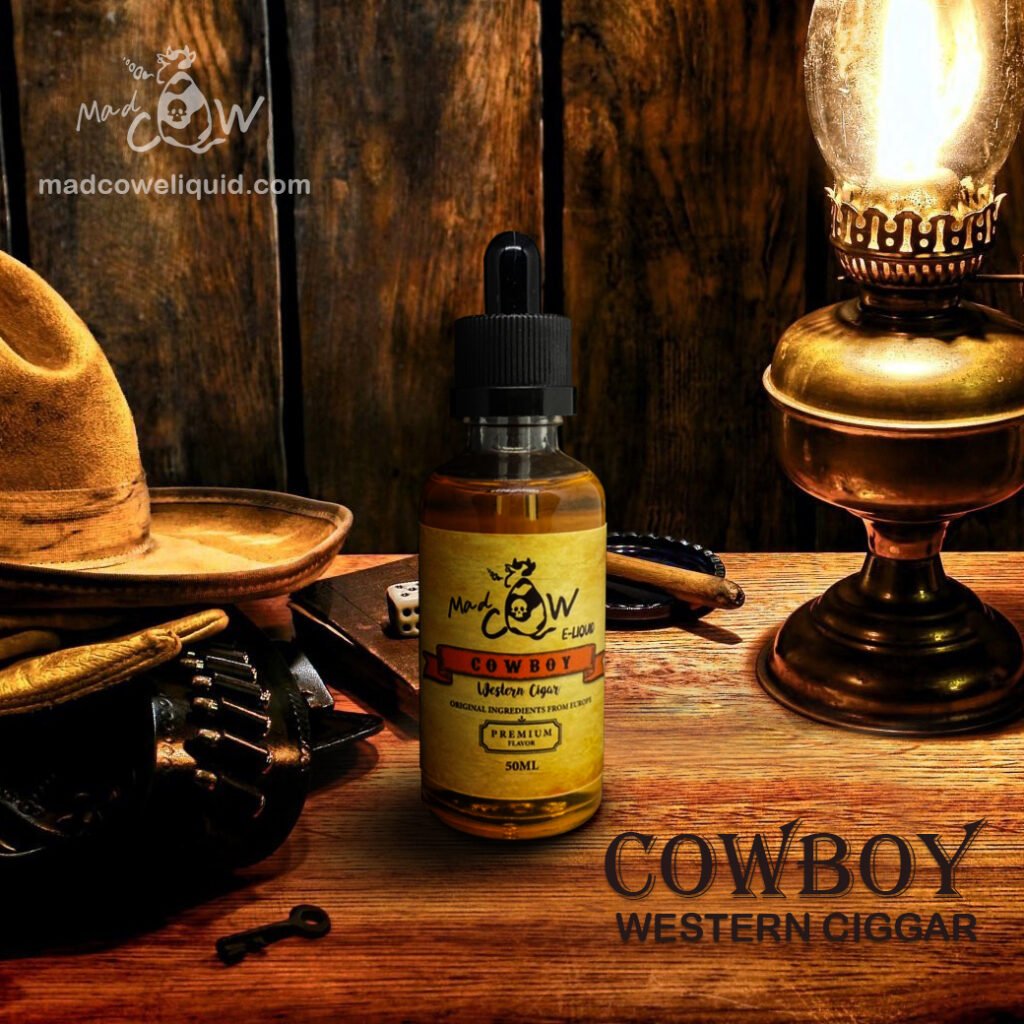 Let's come to the first one first, everyone. The most popular one at our shop, madcoweliquid, is a classic tobacco liquid. It's like going back in time to smoke cigars in the cowboy era. We designed the scent to have the feel of smoking like that. and this liquid It has a deep dimension. There is a slight softness of vanilla. So that the tobacco smell is not too pungent, it is smooth, easy to smoke, not sweet, and there is no coolness of the liquid at all.
---
Cuban cigar scent
Let's move on to the second one with Cuban, a hot liquid E-liquid not cold, which is known for its rawness because it is the best of tobacco lines. For this one, it has the pungent flavor of cigars and a hint of liquor mixed in it, which is a perfect combination. Initially, it may be pungent and you can't smoke, but once you get used to the smell, Beat it, I'll be obsessed with this cuban like no more, love buried, hard to forget and cut off from the heart.
---
Panama Tobacco, Panama dry cigar scent
Continue with the third one. With e-cigarette liquid, not cold, hot liquid, a new brand like Panama Tobacco. This liquid is designed to be the smell of dry medicinal leaves with the perfect aroma that is the smell of Panama's famous cigars. It is a world-class cigar producing country. It can be said that you are fascinated by the scent of the medicinal leaves. Giving a charming charm Anyone who has tried it will definitely be hooked. Let me tell you, it's not ordinary.
---
Caramel Tobacco, caramel tobacco scent
Let's continue with the fourth one. with semi-tobacco dessert syrup An old but still cool product from the Madcow eliquid camp. It's the first tobacco scent from the shop. But this one is more like a dessert. with the sweet, fragrant scent of caramel Taken and the end that receives the dimension of the RY4 tobacco leaf scent with aromatics like vanilla and butter mixed in. It can be said that it's both smooth and mixed with the light spiciness of the medicinal leaves. Suitable for those who are just starting out in the tobacco route.
---
Black Honey, honey cigar scent
Let's move on to the fifth one, with a tobacco line like Black Honey that doesn't have the coolness of the liquid. It's another hot liquid from Madcow and the smell is quite popular. Because it is a solution that has the dimension of fragrant tobacco leaves mixed with the scent of honey on the tip of the tongue, it feels good, easy to smoke, no need to be afraid of being very pungent. I can say that it's the perfect fit. And it's another popular one from the madcow camp.
---
Strawberry Milk, strawberry milk scent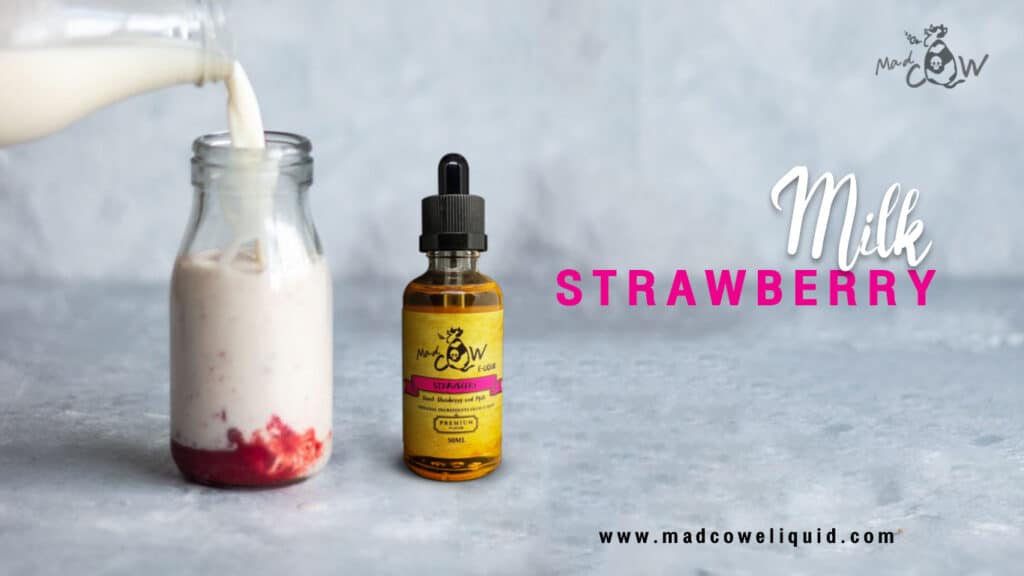 Let's move on to the dessert liquid and the Strawberry Milk liquid which is not cold at all. And this one is one of the most popular in the Madcow Eliquid snack line that sells well because customers love the smell and taste. This liquid is very fragrant. It's the smell of strawberry Pocky. which already has a gentle fragrance And when mixed with the milk cream scent that is the Sixnature scent from the shop, it can be said that it's extremely smooth and very fragrant in the most perfect way. Anyone who likes this scent can say that it's the best.
---
Vanilla Custard II, vanilla custard milk scent.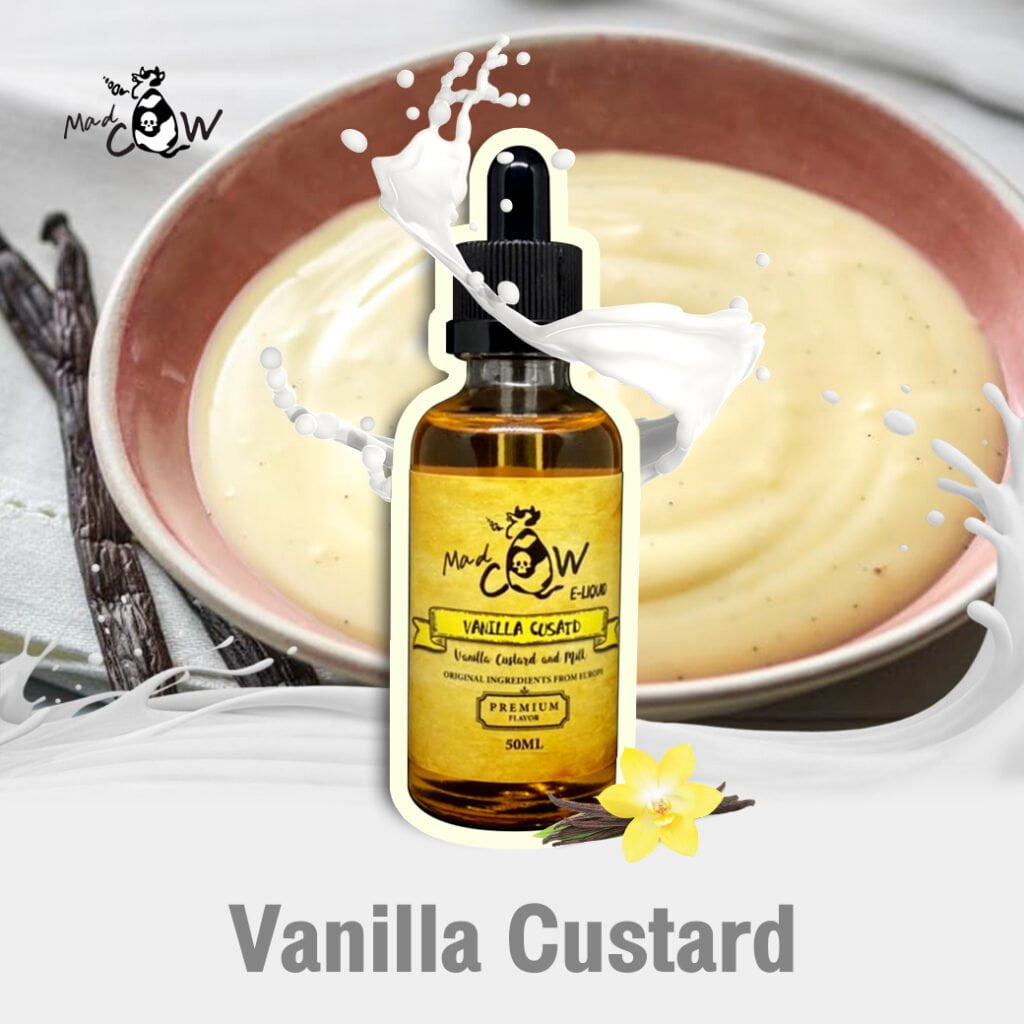 The popular dessert liquid, Vanilla Custard, is already a popular scent for dessert lovers. It's a basic scent for desserts. It's like stir-fried basil, which every restaurant must have to order. It's like a measure of the brand's craftsmanship. There are many brands of vanilla custard liquid available. But Madcow's vanilla custard is extraordinary and very famous It's designed to have the sweetness of vanilla and even more so when mixed with the shop's Sixnature milk cream. I can say that it's extremely smooth and very smooth on the tongue. Anyone who likes the smoothness of the liquid, then You must try this one, you won't be disappointed.
---
White Chocolate, white chocolate almond scent
Hot liquid with the smell of chocolate that many people like, like White Chocolate. This smell tells you who likes to eat chocolate. Enjoy the sweetness of chocolate. I'd like to recommend this one. On the cover, it's a sweet, creamy white chocolate with a slight aroma of almonds. It's a dimension of liquid that's colorful and not boring. Guaranteed to be addictive.
---
Mad Chocolate, dark chocolate scent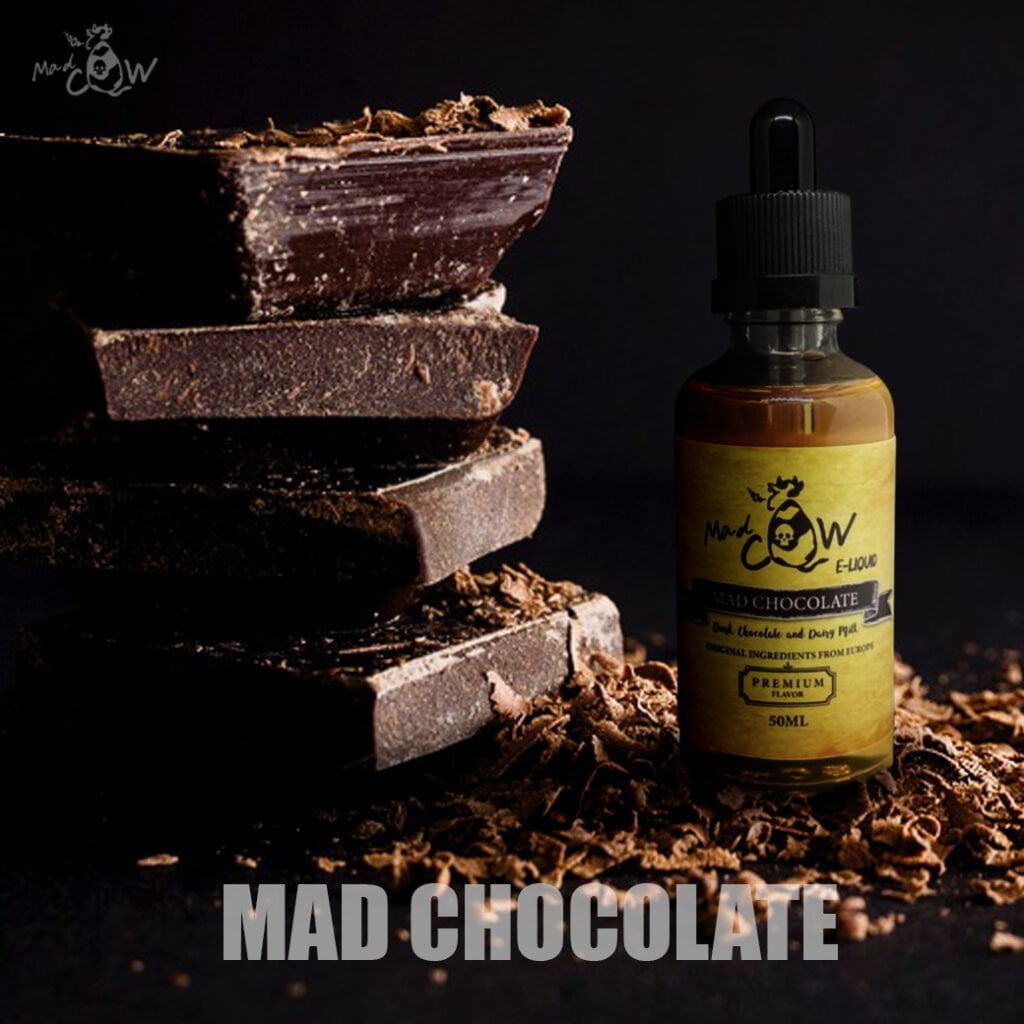 The last one arrived. With Mad Chocolate scented liquid, another product from Madcow that has a strong dark chocolate scent. There is a scent of coffee mixed in as well. to get a variety of liquid dimensions We mixed and designed this chocolate to be aggressive. It's a strange chocolate scent that's definitely unique. Who wants to experience chocolate in a stylish way? Let's try this one.
---
Summary at the end of the chapter
In this article, we provide knowledge about E-liquid without cooling and how many types of refrigerants like cooling there are. What are the most popular types of e-liquids and which ones should not be used in e-liquids? If those who want to take The liquid is no longer cold. I can tell you that our store's reagent. And finally, with a sales warp from our store, click here. Madcow Darkness Page