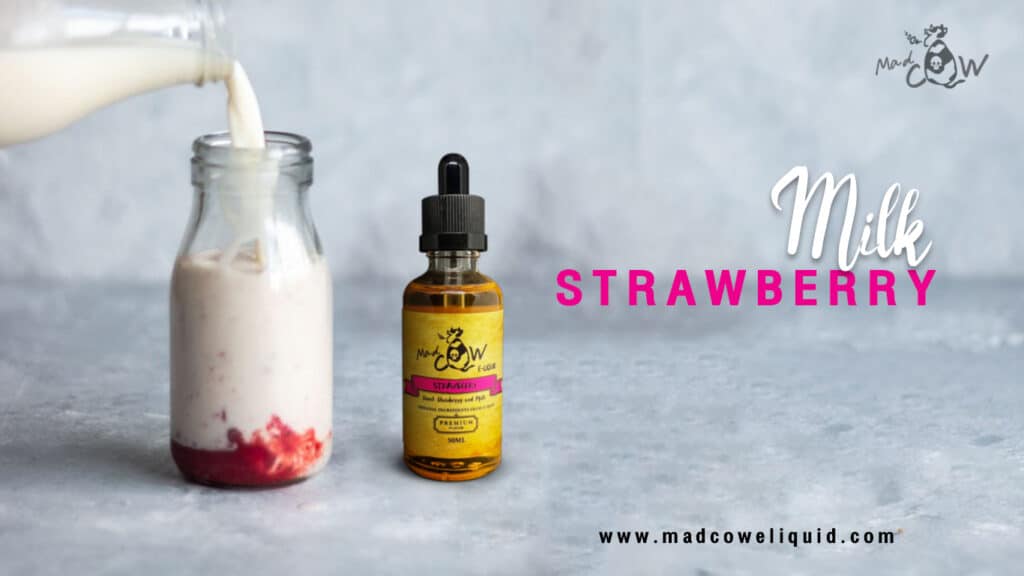 Let's have a look at the review of Strawberry Milk e-cigarette liquid from Madcow shop, everyone. This was one of the first scents when the Thai liquid brand Madcow was launched. At that time, 30ml was 350 baht. Let me tell you, it was very expensive. Because the raw materials at that time were very expensive. Found this price and said goodbye to almost everyone. But there are still people who want to try it. How about you try it? Huh, I'm hooked.
By E-liquid This strawberry milk flavor has a signature milk texture with a soft tip on the tongue at the tip of Exhale. It's definitely unique, and it smells like milk without greasy. The taste of milk in any way.
which is greasy It may not be to the liking of many people. The smell of Adbang's end milk is different. It has a sweet and gentle aroma because of Adbang. Mix in shades of cream and vanilla. No greasy And of course Ian, many people were hooked and pre-ordered until the admin couldn't produce at that time. (Anyone who knows madcow from the beginning will know that when they opened a pre-order, the market broke)
Let's take a look at the details and ingredients, everyone. What are the details of this Strawberry Milk?
Ingredient, various ingredients, e-cigarette liquid review
Flavor: The scent used includes TFA's Strawberry Ripple and other shades of strawberry (secret) and milk scent that is the shop's signature formula. The scent proportion is 30%.
Nicotine used will have a Freebase and Saltnic customers can choose nicotine levels. Freebass ranges from 0, 4, 6, 9, 12, 15 and Solnik ranges from 20, 30, 40, 50, 60, with each level priced differently.
PG or Propylene glycol used is USP grade, high quality, high purity, proportion 10%.
VG or Vegetable Glycerin used will be USP grade, high quality, high purity, proportion 50%.
Sweet will be TFA's Super Sweetener that provides sugar-like sweetness. with high sweetness And the shop has a choice of sweetness levels ranging from not sweet, slightly sweet, original, very sweet.
Cooling is not used in components . The liquid does not cool.
Open the archive of PG VG substances that Madcow stores use.

Additional content
Revealing the brand of e-cigarette flavor that Madcow stores choose to use.

Additional content
Liquid dimensions and pumping fill
Now let's try smoking. This strawberry milk flavored e-cigarette liquid. Adbang will be divided into 3 main layers. Strawberry Ripple scent will be the main main part of the solution and other shades of strawberry scent will be hidden in small amounts and there will be a milk scent at the end as Exhale, leaving the gentle fragrance of milk. It's the shop's special milk formula. Leave it at the end. Gives a soft feeling and this Strawberry Milk liquid also conceals the fragrance of flower water (similar to honey) lightly as well. You can tell that it has a unique charm.
Recommended Build Smoking
Because Strawberry Milk is a dessert e-cigarette liquid. It should have a balanced sweetness and aroma. Building or modifying various atoms, we should build so that both the smell and the smoke are balanced because of this strawberry milk. There is a dimension of the liquid. More than the sweetness and taste of the liquid To get the dimensions of the liquid and the flavor of the liquid to be balanced, you should adjust as follows.
Wattage Cigarette Mocoll and atom We should build a normal wire or pararail to have a slightly high oom value and not too low. Should build an ohm value around 0.3-0.5 ohm This build will balance the liquid dimension and taste of the reagent. Choosing an atom It is recommended to choose a single coil atom to iron out the smell well. Adjust the air hole to your liking. If you don't like the sweet solution, focus on the smell. Using a narrow hole cylinder drip tip will help iron out the smell. Filters sweetness well. The light adjustment is also adjusted to your liking, recommended at around 30W.
Cigarette Pod system recommends using a call with an estimated value of 0.6 – 1.0 ohm or more because the pod does not iron the smell well. Clearer reagent dimensions The power adjustment should be around 30-40W.
Summary of Strawberry Milk e-cigarette liquid review
And it's over for the e-liquid review. The Strawberry Milk scent from Madcoweliquid is another scent that the shop recommends. Semi-baked fruit line or tired of cold fruit liquid to try it. This strawberry is a semi-fruity line that does not have any cold. If you are interested in the E-liquid of the shop, you can order it on the store's website or official LINE channel.
---